(image from WPTV.com)
by Fr Richard Peers SMMS, Director of Education for the Diocese of Liverpool
High Leigh, 30th April 2019
Not exactly as delivered but these were my notes:
Sacramental Mission – discipling adults and children
[Ensure there is an orange on each chair before the session begins.
Icon of Isaac with votive light.
Incense sticks burning. Readers arranged for poems.]
I couldn't come all the way from Liverpool without bringing a little bit of Scouse wisdom. We are going to begin with a poem. By one of the Liverpool Beat poets, Brian Patten:
The Stolen Orange
When I went out I stole an orange
I kept it in my pocket
It felt like a warm planet
Everywhere I went smelt of oranges
Whenever I got into an awkward situation
I'd take out the orange and smell it
And immediately on even dead branches I saw
the lovely and fierce orange blossom
that smells so much of joy
When I went out I stole an orange
It was a safeguard against imagining
there was nothing bright or special in the world
Brian Patten
(image from Wikipedia)
I started using this poem and giving people an orange in Mindfulness sessions almost 20 years ago. In a Christmas card I received last year there was a note from one of the participants in one of those early sessions. I hadn't seen her for more than a decade. After listing the tragedies and illnesses that had befallen her in 2018 she wrote:
"Mindfulness is the only thing that keeps me sane. I am sitting looking at a bowl of oranges, 'it is a safeguard against imagining there is nothing bright or special in the world.'"
This afternoon I will use the word sacramental in the title in two different ways. As a noun and an adjective:
• As an adjective it relates to the sacraments of the church but also to the way we perceive the world.
• As a noun it refers to the sacramentals, the objects, things, blessings that tradition gives us.
I believe that Sacramental mission will only work when we rediscover the richness and the diversity of sacramentality. As Catholic Anglicans we have neglected the role of sacramentals and of a sacramental approach to life and concentrated too much on the sacraments.
My own ministry, as some of you may know, has mainly been in schools, as teacher, chaplain and headteacher. Forgive me for referencing that as I go on.
One of the things I learnt in school leadership is the importance of understanding the basic principles. The theory that decides the action. Pupils and teachers need to understand why we are doing things in a particular way.
So I am going to begin with the theory of sacramental mission. A theology of sacramentals and sacraments. That needs, like everything we do to be
• Jesus centred
• Bible based
• Spirit filled
Then I am going to propose 6 Marks of Sacramental Mission, and to give you a taster, I believe that Sacramental Mission needs to discover that sacramentality involves:
1 Fleshiness
2 Interbeing
3 Homeliness
4 Drama
5 Darkness
6 Contemplation
But first to Scripture:
John 9:1-7 (CEB)
"9 As Jesus walked along, he saw a man who was blind from birth. 2 Jesus' disciples asked, "Rabbi, who sinned so that he was born blind, this man or his parents?"
3 Jesus answered, "Neither he nor his parents. This happened so that God's mighty works might be displayed in him. 4 While it's daytime, we must do the works of him who sent me. Night is coming when no one can work. 5 While I am in the world, I am the light of the world." 6 After he said this, he spit on the ground, made mud with the saliva, and smeared the mud on the man's eyes. 7 Jesus said to him, "Go, wash in the pool of Siloam" (this word means sent). So the man went away and washed. When he returned, he could see."
Jesus uses things, material objects constantly, wine, bread, water, writing in sand, stories of seeds and coins. That is our dominical permission to use material signs of the sacred. As is, of course, the incarnation itself. This is why sacraments and sacramentals are possible. Jesus didn't need to use mud to heal the blind man but he chose to.
Eugene Peterson in a book I shall refer to later writes about the Lord's Prayer and how its central petition is for bread:
"The petition immediately following the "on earth" formula is the petition for bread, as if to underline the earthiness of the entire prayer. Bread is unique among the six items prayed for in that it is the only one that is unavoidably physical, material, something that we can touch and taste, that enters into our bodily functions. All the others—God's holiness, will, and kingdom, our forgiveness of sin and deliverance from evil—are "spiritual" and not subject to examination in a laboratory. And so they are also vulnerable to "spiritualization," the understanding and interpreting of them in unearthly ways. But not bread. We are physically involved with bread, whether in its making or purchase or eating. We can't go to the market and buy God's holiness, will, or kingdom, or our forgiveness or deliverance. But we can bread. We can't knead and bake, butter and eat the holiness, will, and kingdom of God, nor our forgiveness of sin and deliverance from evil. But we can bread. Bread stubbornly resists spiritualization. We can't spiritualize bread."
The best place to begin thinking about sacramentals is the Catechism of the Catholic Church. Of course, as Anglicans we will not be able to assent to everything it contains, but it is a brilliant compendium of the Christian faith. It has a whole section on Sacramentals, in Part 2 Chapter 4.
There are two key passages I want to draw attention to, paragraph 1669:
"Sacramentals derive from the baptismal priesthood: every baptised person is called to be a "blessing," and to bless. Hence lay people may preside at certain blessings;"
Sacramental mission is not clericalised mission. It is not priest-centred. It derives from the priesthood of all believers. We need to teach the baptised that they can all bless.
In the following paragraph there is a lengthy quotation from Vatican 2's document Sacrosanctum Concilium, the Constitution on the Sacred Liturgy. It is worth reading in full:
"Thus, for well-disposed members of the faithful, the liturgy of the sacraments and sacramentals sanctifies almost every event in their lives; they are given access to the stream of divine grace which flows from the paschal mystery of the passion, death, the resurrection of Christ, the font from which all sacraments and sacramentals draw their power."
and it ends with this remarkable sentence:
"There is hardly any proper use of material things which cannot thus be directed toward the sanctification of men and the praise of God."
The proper use of material things sanctifies us.
Saint Benedict in his Rule in the 7th century already knew this of course. Far from being a detailed Manual of mystical experiences his Rule is a set of practical arrangements for the ordering of community life. And in chapter 31 on the appointment of the monastic cellarer Benedict writes that
"He will regard all utensils and goods of the monastery as sacred vessels of the altar"
And we can bless, and regard all material things as sacred because we have been blessed. And the New Testament passage that is the source of this understanding of blessing is Ephesians 1:
"Bless the God and Father of our Lord Jesus Christ! He has blessed us in Christ with every spiritual blessing that comes from heaven. 4 God chose us in Christ to be holy and blameless in God's presence before the creation of the world. 5 God destined us to be his adopted children through Jesus Christ because of his love. This was according to his goodwill and plan 6 and to honour his glorious grace that he has given to us freely through the Son whom he loves. 7 We have been ransomed through his Son's blood, and we have forgiveness for our failures based on his overflowing grace, 8 which he poured over us with wisdom and understanding. 9 God revealed his hidden design[b] to us, which is according to his goodwill and the plan that he intended to accomplish through his Son. 10 This is what God planned for the climax of all times:[c] to bring all things together in Christ, the things in heaven along with the things on earth. 11 We have also received an inheritance in Christ. We were destined by the plan of God, who accomplishes everything according to his design. 12 We are called to be an honour to God's glory because we were the first to hope in Christ. 13 You too heard the word of truth in Christ, which is the good news of your salvation. You were sealed with the promised Holy Spirit because you believed in Christ. 14 The Holy Spirit is the down payment on our inheritance, which is applied toward our redemption as God's own people, resulting in the honour of God's glory."
Section 1673 of the Catechism goes on to speak about the spiritual conflict. This is very important. We are nervous of the language of spiritual warfare. In our post Freudian world we are all too aware of the ambiguity of our own let alone any one else's intentions.
Sacramentals can be anything that cultivates faith, holy water, crosses, crucifixes, stages and icons, holy cards, the ashes on Ash Wednesday, the Palm crosses and branches, chalk blessed for the Epiphany blessings, candles blessed at Candlemas and other times, incense.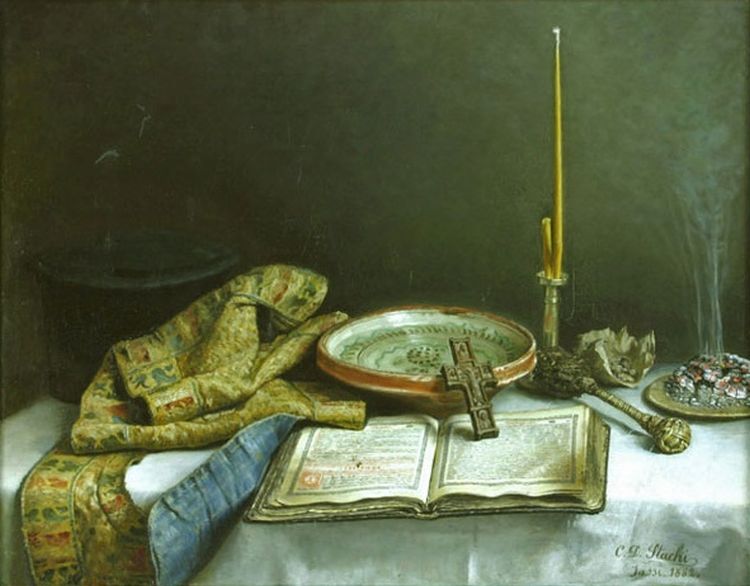 (image from Fish Eaters)
Sacramentals are closely linked to popular piety. Another excellent document worth reading is the Roman Catholic church's Directory on Popular Piety, like the Catechism and the documents of Vatican 2 it is available in English on the Vatican website.
We have neglected the cultivation of popular piety. When I was a Head in Lewisham almost all the children in my school were Pentecostal Christians. they loved the Anglo-Catholic way I ran the school because they recognised the properly sentimental piety of Catholic Faith and practice. The Sacred Heart, the Divine Compassion should be at the heart of our spiritual lives. This is the sentiment of much of the Hillsong repertoire of music, of New Wine, of Sweet Sacrament Divine.
If you don't know the poetry of Fr Andrew SDC it is well worth looking up. He was one of the early Anglican Franciscans in the Society of the Divine Compassion. here is his poem entitled
At The Consecration
Peace, Peace,
Jesus is here.
Peace, Peace;
Angels are near –
We are not left alone,
Here at His Altar Throne
Heaven and earth are one,
Jesus is here.
Kneel, Kneel,
Jesus is King.
Kneel, Kneel;
Offerings bring.
Dear Babe of Bethlehem,
God of Jerusalem
Love is His diadem,
Jesus is King.
Soft, soft:
Whisper your need.
Soft, soft;
the Father will heed.
Given the Holy Food,
Now as upon the Rood
Pleadeth the Precious Blood,
Whisper your need.
Rest Rest,
Infinite Love.
Rest, Rest;
Here as above,
Now on His gentle Breast
Weary ones find their rest,
Truest and Tenderest,
Infinite Love.
To move on to the Sacraments. Article 25 gives us a clear picture of the Anglican position on the Sacraments:
"SACRAMENTS ordained of Christ be not only badges or tokens of Christian men's profession, but rather they be certain sure witnesses, and effectual signs of grace, and God's good will towards us, by the which he doth work invisibly in us, and doth not only quicken, but also strengthen and confirm our Faith in him.
There are two Sacraments ordained of Christ our Lord in the Gospel, that is to say, Baptism, and the Supper of the Lord."
I would almost want to go further. There is, in reality only one Sacrament. the death and resurrection of Our Lord Jesus Christ. Baptism and Eucharist are not separate, they are our participation in the Ur-Sacrament that is Jesus. What we call the other Sacraments are our renewal of that life-spring, the intensification, or magnification of that participation. This is important because otherwise the Sacraments become some sort of ecclesiastical magic and the church's ministers her magicians. It also separates the Sacraments from sacramentals and from the sacred quality of all materiality. It is more like ever increasing circles, ripples on a pond than little islands.
And these Sacraments the two, the seven of western tradition, are the possession of the whole people of God. Once we understand sacramentality we avoid a functional approach to the Sacraments because we avoid a utilitarian, functional approach to all created matter. That's why pure Capitalism with its exploitation of the planet and its people can never be acceptably Christian. In that sense the Sacraments are revolutionary, they enact the Magnificat and overturn the fallen order.
So that is a skip through what I understand to be a proper Catholic theology of Sacraments, Sacramentals and sacramentality.
I hope it will make sense of what I am calling the Six Marks of Sacramental Mission.
I just want to make one other point before describing those.
In the world of Education we have discovered that we were very wrong in the way we taught for. along period at the end of the 20th century. We have discovered the need for. much more didactic approach to learning, the importance of knowledge and memorisation.
I believe that many of us in the church fell into the same trap as schools. We too now need to recognise that we have to teach, and we have to teach content and the best way to do that is by telling people about our tradition.
My first degree was in world religions. I have had many contacts with various Buddhist communities. I am constantly impressed by the teaching they give. How to meditate, how to behave in a meditation room or Temple, how to show respect to a shrine. As Head in Lewisham I was aware of. number of pupils interested in Islam. Again, they were given careful, detailed instruction on how to pray.
We have lost the art of teaching this. As I describe what I am calling the Five Marks I hope you will see something of what I am suggesting. I know it is not uncontroversial. there will be time for some discussion at the end.
Reading the Bible sacramentally
Before describing those five mark I want to remind us of two fundamentals.
The first is the primacy of Scripture and reading it sacramentally.
(image from geek.com)
Revelation 10:9-10 New Revised Standard Version, Anglicised (NRSVA)
"9 So I went to the angel and told him to give me the little scroll; and he said to me, 'Take it, and eat; it will be bitter to your stomach, but sweet as honey in your mouth.' 10 So I took the little scroll from the hand of the angel and ate it; it was sweet as honey in my mouth, but when I had eaten it, my stomach was made bitter."
This is the key passage for Eugene Peterson in his brilliant book Eat This Book, he writes:
"There is only one way of reading that is congruent with our Holy Scriptures, writing that trusts in the power of words to penetrate our lives and create truth and beauty and goodness, writing that requires a reader who, in the words of Rainer Maria Rilke, "does not always remain bent over his pages; he often leans back and closes his eyes over a line he has been reading again, and its meaning spreads through his blood." 3 This is the kind of reading named by our ancestors as lectio divina, often translated "spiritual reading," reading that enters our souls as food enters our stomachs, spreads through our blood, and becomes holiness and love and wisdom."
He goes on to talk about Karl Barth,
"Barth insists that we do not read this book and the subsequent writings that are shaped by it in order to find out how to get God into our lives, get him to participate in our lives. No. We open this book and find that page after page it takes us off guard, surprises us, and draws us into its reality, pulls us into participation with God on his terms".
Lectio is sacramental, contemplative reading of Scripture.
Sacramental Mission is vital.
It is the re-enchantment of the world.
And reading Scripture Sacramentally is fundamental to this.
1 Fleshiness
This is my first mark.
Jesus was incarnate. he became carne for us, meat.
We are meaty creatures not living 'in' our bodies but consisting of bodies.
Seeing young men in my school fascinated by Muslim prayer, the prostration on the ground. Hearing their interest in the hard work of the fast of Ramadan. Seeing young people engrossed in teaching by Buddhists in how to sit in meditation.
We need to return to our tradition.
When I teach Mindfulness I always have this skeleton with me, to demonstrate how the human back works, and this school science lab model of the human lungs to show ho breathing happens.
We need to teach the postures of prayer. Bowing the head at the Holy Name. genuflecting to the Blessed Sacrament, bowing to the altar. How to kneel.
As young priest I learnt very quickly that most couples at the wedding rehearsal don't know how to kneel!
And I am so sad to see the disappearance of kneeling in our churches. Kneelers removed . Sitting for intercessions.
Sitting on a chair is the least helpful posture for the human back.
The Christian tradition like Buddhism, like Islam know there is something profound about lowering ourselves to the ground. Touching the earth we become more balanced, more rooted and we know that we are not the centre of the universe. We allow our centre of consciousness to descend from our thinking brain to our heart, the centre of our being, our bodies.
Fasting as a serious spiritual discipline is demanding, but it makes us more aware of our bodies and their needs. It makes us realise our animal nature.
2 Interbeing
The second mark.
There is a word that used to appear in the doxologies of certain hymns and that is pretty crucial to understanding the Christian faith.
It is consubstantial.
I don't want to get into a discussion of the precise philosophical difference between homoousios and consubstantia, but the idea that Jesus shares the same substance as the Father and the Son and as us is the foundation for the atonement. And it is crucial to our modern individualism and existentialism that we do not believe that we share a common human substance.
Jesus can only save us because we are the same stuff.
In my teaching of Mindfulness there are three common experiences that people report to me:
1 a sense of kindness
2 a sense of a greater Presence "It's like there is someone here."
3 a sense of connectedness
It was the Vietnamese Buddhist teacher Thich Naht Hanh who coined the term inter-being. I rather like it and propose it as a contemporary form of consubstantial.
Sacramental Mission must build up the sense of connection. When we consume the Eucharist there is only one Christ, only one Eucharistic presence, only One Sacrifice "His one Oblation of Himself once offered".
When we eat and drink we inter-are not only with Jesus but with every believer in every time and place.
Working with teenagers I have been acutely aware of the existential crisis. The search for identity. Ask night we heard in these sermon about being the people God made us to be. We do that when we discover our identity in God. Our inter-being, our consubstantiality with Jesus.
3 Homeliness
Sacramental Mission will not work if it is Churchy mission.
Whether in Islam or Buddhism or judaism it is the offering of resources for domestic, homely religious practice that is so powerful. That is why sacramentals are so much a part of Sacramental Mission.
perhaps our most significant failure in recent years is failing to resource families to pass on the faith to their children. To teach the quite simple ways of establishing daily prayer at home. Filling the Christian home with the rich resources of Catholic sacramentals.
Our schools are a great resource for teaching this, sending home candles at Candlemas, chalk for Epiphany, palms before Easter.
Offering to bless homes. This is such a powerful and welcome gift to families. Erecting sacred images. Enthroning the bible in the home. Blessing prayer corners and Oratories.
We need to empower parents in discipling their children. What more priestly task is there than being a parent?
Some churches do a 'this time tomorrow' slot interviewing members of the congregation about their day jobs. How about setting tasks every week for families to do and interviewing people about how that has gone. Sharing photographs of family prayer.
The home is the 'domestic church'. The place where children and young people are nurtured in the faith.
4 Dramatic
We often use the word dramatic in English to refer to something startling or sensational. I don't mean it in that sense.
When I was a Head I would say to staff that our daily worship with the whole school was the place where we rehearsed the way we wanted the school to be.
That is what liturgy does. It is a foretaste of the kingdom. A rehearsal for the way we want the world to be.
I am a great fan of the theologian Hans Urs von Balthasar and his concept of theo-drama.
When we enact the salvation story we learn to imitate it. It is the very opposite of the ego-drama that is most of our lives when we are the centre of the universe.
Our worship must be God centred if it is going to convert us.
5 Dark
Finally the darkness.
For a few years I inspected Church Schools across a number of dioceses.
I saw lots of inspiring messages. Daffodils and rainbows.
But I was always most impressed by those schools where the shadow was acknowledged.
There is no school where children have not experienced death, divorce, illness, abuse.
The cross is the symbol of Christianity because it reflects the reality of life.
The darkness is not just a negative though. It is the Cloud of Unknowing. It is the dark night where we meet our lover:
"One dark night
Filled with love's urgent longings
-Ah, the sheer grace!-
My house being now all stilled;
In the darkness and secure,
by the secret ladder, disguised;
-Ah, the sheer grace!-
In darkness and concealment,
My house being now all stilled."
Our Sacramental Mission must be complex, multi-layered, ambiguous and beautiful.
And difficult. Young people in Lewisham were attracted to Islam because it was demanding, it made demands on them.
Sacrifice, Isaac Genesis 22
Genesis 24
Now Isaac had come from[a] Beer-la′hai-roi, and was dwelling in the Negeb. 63 And Isaac went out to meditate in the field in the evening; and he lifted up his eyes and looked, and behold, there were camels coming. 64 And Rebekah lifted up her eyes, and when she saw Isaac, she alighted from the camel, 65 and said to the servant, "Who is the man yonder, walking in the field to meet us?" The servant said, "It is my master." So she took her veil and covered herself. 66 And the servant told Isaac all the things that he had done. 67 Then Isaac brought her into the tent,[b] and took Rebekah, and she became his wife; and he loved her. So Isaac was comforted after his mother's death.
6 Contemplative
What we do in assembly, I said as a Head is a rehearsal for how we want our school to be all the time. What we do in our worship as church is a rehearsal for the kingdom of God, how we want the world to be.
When we learn how to be sacramental, to regard the world sacramentally we are learning how to be Jesus centred, Bible based, Spirit filled in every moment of our lives.
The silence last night when we were Waiting on the Spirit was deeply powerful. Like some other people at On Fire Mission I've taken groups of young people to Taize each summer for many years. At the heart of the worship at Taize, three times a day, is a long silence. I don't think there has been a single group that I've taken there where several people have not said the best thing about Taize was the silence.
Silence changes us. Silence allows God to work in us. Allows us to stop thinking we have to do the work ourselves.
And yet there is very little silence in most of our churches.
Miracles
Why, who makes much of a miracle?
As to me I know of nothing else but miracles,
Whether I walk the streets of Manhattan,
Or dart my sight over the roofs of houses toward the sky,
Or wade with naked feet along the beach just in the edge of the water,
Or stand under trees in the woods,
Or talk by day with anyone I love, or sleep in the bed at night with anyone I love,
Or sit at table at dinner with the rest.
Or look at strangers opposite me riding in the car,
Or watch honeybees busy around the hive of a summer fore-noon,
Or animals feeding in the fields,
Or birds, or the wonderfulness of insects in the air,
Or the wonderfulness of the sundown, or of starts shining so quiet and bright,
Or the exquisite delicate thin curve of the new moon in spring;
These with the rest, one and all, and to me miracles,
The whole referring, yet each distinct and in its place.
To me every hour of the light and dark is a miracle,
Every cubic inch of space is a miracle,
The fishes that swim–the rocks–the motion of the wave–the ships with men in them,
What stranger miracles are there?
Walt Whitman