I'm indebted to #distinctivedeacon Gill Newman for sending me the Southwark Diocese IME Phase 2 Training Handbook for Distinctive Deacons.  Southwark is taking the diaconate seriously, and the handbook is pretty thorough and comprehensive as well as clear about (distinctive) deacons.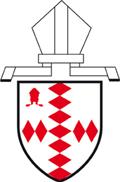 Distinctive deacons are those who hear the call to this ministry, primarily of service, as those who inhabit the liminal space between the church and the world. They all called, above all, to embody the servant heart of Christ in their ministry and in their lives.
Well said.  It's been put together by Dr Mandy Ford, canon chancellor at Southwark cathedral and interim director of ministry for the Church of England's Ministry Division.
Do take a look.   I like its thoroughness and clarity but am disappointed that there is not sufficient emphasis on the distinctive elements of the diaconate. I'd be very interested to know what you think.
Southwark Dioceses IME Phase 2 Handbook 2017-2018[16700]